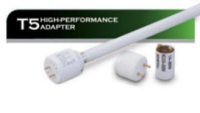 T5 fluorescent is the first linear lamp type to be served only by electronic ballasts. It is smaller than T8 and T12 lamps, with a miniature bi-pin base. It is notable for its lumens-per-watt efficiency, due to its peak light output occurring at 35°C (95°F) air temperature. T5 lamps operate at frequencies greater than 20 kilohertz.
Benefits & Features of T5 Lighting
Energy savings of 28% – 50%, compared to conventional neon light sources
Higher power factor (efficiency of energy utilisation); pf  > 0.98
Increased lamp life
Instant start-up, without flickering
Quiet operation
No visible flicker during operation (Operational Frequency > 20kHz)
Colour rendering Index closer to natural colours (Ra > 80)
Lower total harmonic distortion (THD < 10)
T5 lamps operate significantly cooler than conventional fluorescent lighting
Reduced toxicity
Contact us to discuss your requirements.